December 3rd, 2010
---
11:50 pm - Buddhism and the Modern Mystic
Ancient Magickal History - Contemporary Magickal Practice

This Sunday, the Institute of Awesome will be delving into the philosophies and history of Buddhism. Who was the original Buddha? What is a Bodhisattva? How has Buddhism changed as it encountered the indigenous religions of the regions it expanded to? And most importantly: How can the thinking and practices of Buddhism enhance your daily lives and your magickal work?

Join Matt and Amanda as they teach on a subject that is near and dear to us personally, as well as being the subject that collectively they have written the most papers on :-P

Bring your favorite coloring utensils, be they crayons, pencils, or pens, as we will explore Mandala making as part of the class. Paper will be provided.

See you Sunday, 12pm-2pm!

E|M Fine Art
410 Dexter Ave N, Seattle, WA 98109

Witchvox Listing

November 27th, 2010
---
03:39 pm - kittens!
Thanks to my throbbing womb, R and I became foster parents to five adorable kittens. They are now 11 weeks old and the twins Perseus (Percy) and Enso (the Princess) are looking for a happy home and a loving family. These guys are amazingly sweet kitties. Percy is all about the love - he wants to cuddle and give you kisses all the time. When he is not snuggling on you he is out being a grand adventurer exploring the world. Enso is curious and wants to play with everything, including you!. She is indeed a precious princess with the cutest face and purrs. They are an adorable bonded pair who romp and play with each other all day, and then crash hard into kitten naps.

If you are looking to add some sweethearts to your home, or if you know anybody who would be interested, please send an email to aehauk11@gmail.com


October 5th, 2010
---
10:26 pm - best book title ever
Bright Lights, Big Ass: A Self-Indulgent, Surly, Ex-Sorority Girl's Guide to Why It Often Sucks in the City, or Who Are These Idiots and Why Do They All Live Next Door to Me?

How did I miss this one? Hilarious. I wonder if the book is as good as the title. Barnes and Noble has it here.

July 23rd, 2010
---
11:10 am - Divination Station
(X-posted on the olo email group and facebook)

Hello Everybody.

We are so excited for the OLOTEAS Campout!

Wanted to let you know that we will be setting up a Divination Station open to all divinators and divinatees.

The Divination Station will be a set intentional space for relaxation and prophecy. You are welcome to bring your cards, runes, pendulums, scrying bowls, books, and other tools of premonition to the station to offer augury for others. Come to the Divination Station to discover potentials in your life, perhaps learn a new form of clairvoyancy, or just have a peaceful experience. On the Wooden Stage from 4pm Saturday to 12pm Sunday.

We will also be offering a Ritual of Rebirth on Sunday at 12pm:

The Blindly Avenging Lovers of Light and Shadow, Matt and Amanda, invite you on a mystic journey of epic proportions to the womb of Nu Gua, Chinese dragon goddess of creation. Prepare to ritually strip your clothes, cover yourself in mud, commit to a selfless act, and be reborn!


Lots of love,

Amanda and Matt
B.A.L.L.S

May 12th, 2010
---
11:55 am - Steampunk Auditions!
Announcing The Little Red Studio's Erotic Steampunk Festival - July 9, 10, 11, 2010

Auditions are being held next Tuesday, May 18th from 7pm-10pm @ The Little Red Bistro for the Victorian Fetish Show. This show will be our feature event on Friday night, July 9th.

We are looking specifically for Steampunk and Victorian inspired pieces. That could be anything from a mad inventor routine, to burlesque, to a Gilbert and Sullivan song, to circus arts in Victorian garb, and anywhere in between.

If you have an act or character concept that you would like to audition, please email aehauk11@gmail.com a short description, any time constraints you may have on the night of the 18th, and your preferred audition time.

If you are unable to make the audition date, but still wish to participate, please let us know and we can make other arrangements.

February 13th, 2010
---
February 2nd, 2010
---
05:20 pm - Happy Imbolc!
May the growing light usher love and hopeful promise into our lives.


Magnetica by Anna Ignatieva

November 27th, 2009
---
02:50 pm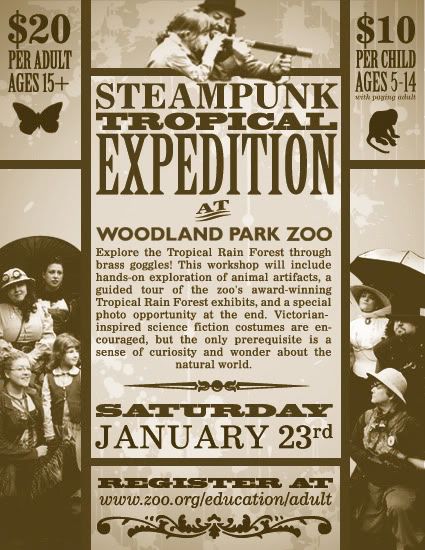 This should be a really fun day at the zoo. The photo shoot was a blast. I took that top pic with the little girl, A, and the telescope :)

October 16th, 2009
---
02:30 pm - come on everybody!
I am performing in the Gold Show at Little Red Studio tonight and tomorrow night. The show has a fun lineup of singing, dancing, aerial routines, naked body painting, mud wrestling, and more! If you have not attended a LRS performance before then prepare yourself for an evening of sex positive, theatrical, artistic bliss. Show up early and have dinner at the Little Red Bistro - now serving alcohol.

Come support LRS and see me, plus my bevy of sexy school girls, as we sing and dance to "Don't Tell Mama" from Cabaret!

October 11th, 2009
---